Shockwave Therapy for Erectile Dysfunction (ED)
Shockwave therapy for erectile dysfunction uses sound waves to increase blood flow in the penis, so there are no surgery, drugs, or invasive procedures.
ED is not "normal" at any age. There is no reason that getting older should prohibit an active sex life.
Men interested in better erections and sexual performance may see improvement with one of the newest treatments for ED. Shockwave therapy for erectile dysfunction uses soundwaves waves to increase blood flow in the penis, so there's no surgery, drugs, or invasive procedures.
Shockwave therapy is a medical treatment that has been around for many years. It is often used as a non-invasive treatment option for kidney stones and orthopedic injuries. Recently, men's health specialists have begun using this therapy to treat Erectile Dysfunction (ED).
Innovative Men's Health offers shockwave therapy as an option for patients suffering from ED in addition to other therapies. Shockwave therapy is typically recommended for patients who do not respond well to medication or do not want more invasive treatments. However, we have found that when utilized as a part of a broader treatment protocol along with other strategies it is almost universally effective.
Shockwave therapy for ED is still considered an experimental treatment option, however, there has been very encouraging data to support its efficacy.
WHAT IS SHOCKWAVE THERAPY?
The clinical term for this treatment used by urologists is low-intensity shockwave therapy (LiSWT). During the treatment, a small wand-like device uses targeted sound waves to stimulate penile tissue and encourage blood flow, which can also speed up the healing process. Low-intensity shockwaves have also been shown to grow new blood vessels and improve blood flow in the penis, which is essential for erections.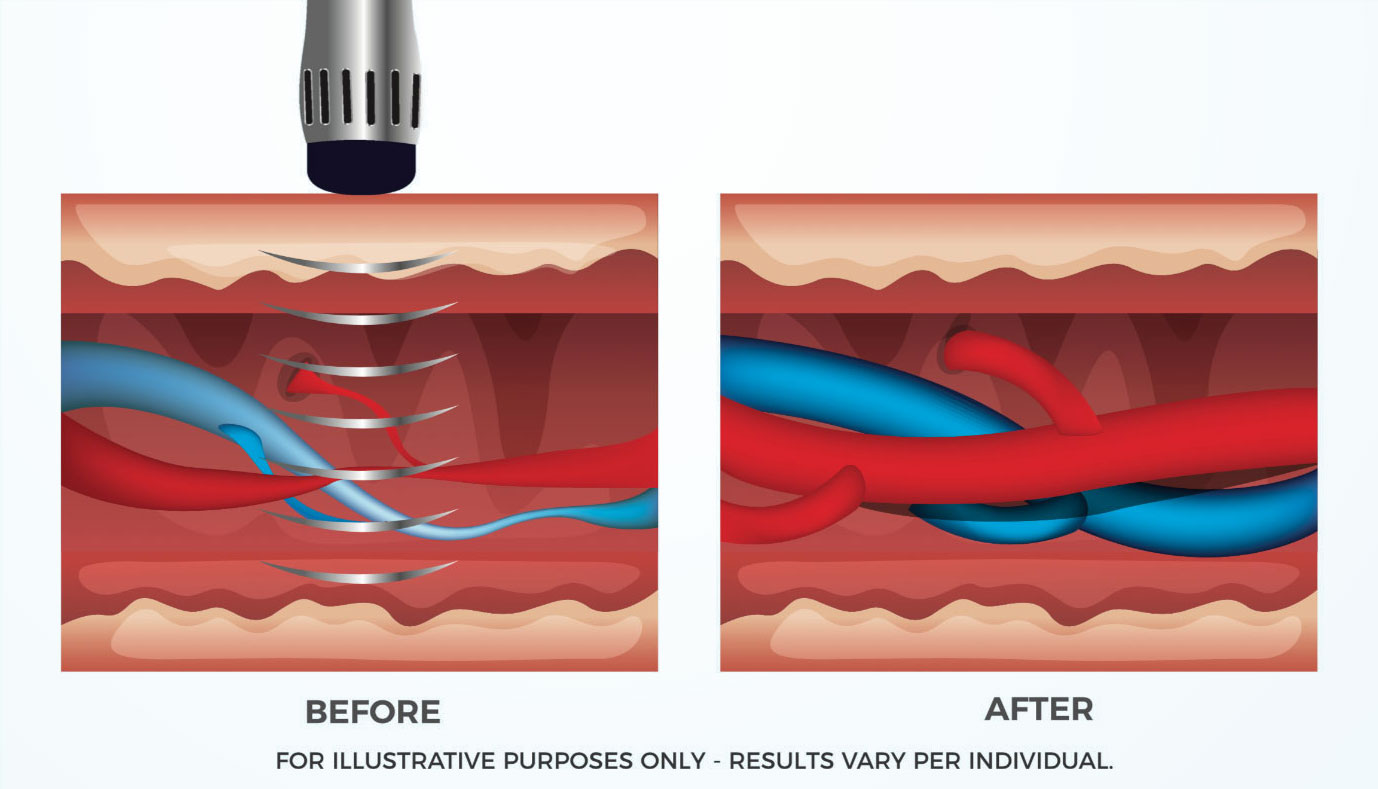 Who can benefit from Shockwave Therapy for ED?
Anyone with mild to severe ED can likely benefit from shockwave therapy. This includes the nearly 50% of men that struggle with getting or maintaining an erection.
It may be a good option for men who…
• Desire a treatment to reverse the underlying cause of ED
• Are looking for a better response to the oral medicines used to treat ED
• Want a non-invasive treatment for their ED before moving on to other options
The typical treatment course is 6 treatments over 6 weeks, and 50-80% of patients will report an improvement in their erections 30 days after they have completed the full treatment cycle. Depending on the severity of your ED and the unique protocol your doctor designs, it may be recommended you to a second course after a period of no treatment.
IT MAY BE LOW TESTOSTERONE
Low testosterone may make getting or keeping an erection more difficult. Some men may notice a drop in libido while others may lose interest in sex completely. If your initial physical exam and blood test results show you have low testosterone, you may be a candidate for Testosterone Replacement Therapy
LEARN MORE ABOUT LOW T
How long does treatment take and how many treatments are recommended?
Treatment is a simple in-office procedure that takes around 15 to 20 minutes to perform. The typical patient will have six treatment appointments (one treatment per week for 6 weeks).
Is Shockwave Therapy FDA Approved?
ShockWave therapy is not currently FDA approved. However, significant testing has been performed and many peer reviews prove ShockWave therapy to be effective in 80% of patients.
Is Shockwave Therapy covered by insurance?
At this time, insurance companies are not covering shockwave therapy.
How much does Shockwave Therapy for ED cost?
Each shockwave treatment is $350, and the typical patient will have six treatments.